Dragon Hills 2
1.1.4 on Android
Rebel Twins
Manual dragon against an army of the walking dead
Dragon Hills 2 – the second chapter of umoritelnoj adventure arcade game from the guys from Rebel Twins, gameplay which traditionally prompts users to deftly manage the Fiery Dragon. Novelty picked the baton quality graphics of its predecessor, but not in the Entourage of the middle ages, and in the realities of the world into post-apocalyptic. As in the last part of the, level in the game one and infinite, in doing so, each time entering the game, Gamer sees differently structured landscape, for generation virtual universe each time you implement random, It is therefore impossible to memorize all the obstacles, location of ordinary enemies and bosses.
Since the concept of novelty is tied to the journey of the infinite level, the main task and, chased by player, derived from this – should survive as long as possible, setting a record of passing the maximum distance, along the way, replenishing your account virtual voiced coins. All banknotes differ in value and purpose, so some will improve the characteristics of the Dragon, others give him extra life, third – give valuable usilenijami and bonuses. Upgrade can be performed after each failed attempt, When a player is automatically redirected to the main menu – improve the different facets of the talent of his ward and then record results will not keep you waiting long.
Features of the project Dragon Hills 2:
Many obstacles, ordinary zombies and bosses.
Colorful landscapes, successive.
High-speed gameplay.
Intuitive control.
Three original world.
Control rider, Dark-winged fire-breathing on proudly to the snake just – all implemented by tapov on display, that allow the Dragon swoop down into the Earth or destroy scurrying about at the bottom of the undead with the associated destruction of buildings. Endlessly delving into soil, Meanwhile,, fail, because snakes cannot break through the solid mineral rocks, and once in the trap with the toxic contents he dies. Enemies also provide heat to the fantastic substance, systematically throwing his explosives, which also carries a lethal threat. Download Dragon Hills 2 You can free, but access to some of the worlds opens for real money, Yes and advertising, appearing after each failed attempt, fairly straining.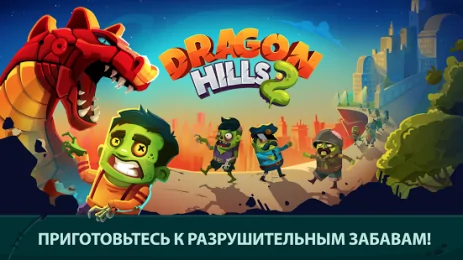 Specifications
| | |
| --- | --- |
| Package name | com.rebeltwins.dragonhills2 |
| Genre | Arcade games |
| Requirements | Android 4.1 + |
| Devices | for phone, for tablet |
| Language | English (+79 localizations) |
Attention! All files are posted with the permission of the authors of the applications or found in free access on the Internet, if any of the files violates your rights, let us know.
FAQ: Download and Install